Cramp Bark – Viburnum opulus
Current Demand = Normal
Demand: Poor – Normal – Good

Parts Used: Tree Bark
Current Market Price = $ varies/lb.
Family: Caprifoliaceae
Common Names: Guelder Rose, Snowball tree…
Description:
Native to Europe, North Africa and Asia and found in woodland clearings with wet soil.  It is a deciduous shrub with multistemmed round shaped, with attractive cream flower heads, maple like leaves that turn burgundy in autumn and bright red berries.  It can reach heights of 8-10 feet and a diameter of 10-15 feet. Woodland Garden; Sunny Edge; Dappled Shade; Shady Edge; Hedge; Bog Garden are areas to find this plant.
Planting/Cultivation
Grows best in moist and moderately alkaline soils. It can grow in semi-shade or no shade and prefers light (sandy) and medium (loamy) soil.  If started from seed, it's best grown in a cold frame.  Germination can be slow, sometimes more than 18 months.  Stored seed will require 2 months warm then 3 months cold stratification and can still take 18 months.
Cuttings of mature wood, winter in a frame. They should root in early spring – pot them up when large enough to handle and plant them out in the summer if sufficient new growth is made, otherwise keep them in a cold frame for the next winter and then plant them out in the spring. Layering of current season's growth in July/August.
Harvesting/drying:
Parts we use: tree bark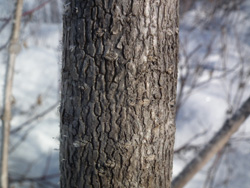 The bark is harvested in the autumn before the leaves change colors, or in the spring before the leaf buds open.  It is dried for later use.
The bark should be dried in the shade.Like other trees and shrubs, only peel one side of the trunk and prune branches for peeling. This will allow continued growth for future harvest. Dry indoors where heat and airflow are both present. A barn loft or attic with a fan works really well. Tree bark as well is best dried indoors though it can be dried in the sun. Drying time will depend on weather conditions, for example, high humidity will slow the drying process, and also thicker bark will dry slower than thin bark.The more air you can get to each piece of bark the better it will dry. A thin layer will dry much easier than a pile. When cramp bark is dry it will be brittle and snap not bend. 7 – 10 days. Once dry, store in a paper bags, cardboard or burlap in a dry place. Never store dried roots, herbs or barks in plastic or it will mold.
Attributes (Images)
By Lestat (Jan Mehlich) (Own work) [GFDL, CC-BY-SA-3.0 or CC BY-SA 2.5], via Wikimedia Commons
USDA-NRCS PLANTS Database / Herman, D.E., et al. 1996. North Dakota tree handbook. USDA NRCS ND State Soil Conservation Committee; NDSU Extension and Western Area Power Administration, Bismarck.