Solomon's Seal Root – Polygonatum biflorum
Current Demand = Normal
Demand: Poor – Normal – Good

Parts Used: Root
Current Market Price = $ varies/lb.
Family: Liliaceae  
Common Names: Polygonatum biform and odoratum, Polygonatum, King Solomon's Seal, American Solomon's Seal, Yu Zhu, Drop berry, Sealwort and Seal root
Description:
Solomon's seal root is a perennial that grows from 8-24 inches. The stem is erect and bare about half way up its length, and then it has large pale green leaves that alternate. Hanging under each stem is 5-10 white flowers that hang in the opposite direction of the leaves. They are bell shaped and tubular and are topped with a yellowish-green sweet scent and bloom form April until June.
The flowers are hermaphrodite and are pollinated by bees. They are replaced with small berries of a blackish-blue color which contain seeds in August through October. The rootstock is thick and white, full of knots, often twisted with circular scars.
Growing region: Solomon's seal root can be found over much of North America and Canada, from Alaska to California to the New England states and south to the Carolinas. It can be found in areas of dapple shade, deep shade, and woodlands and in ground cover.
Harvesting/Drying
Part used: root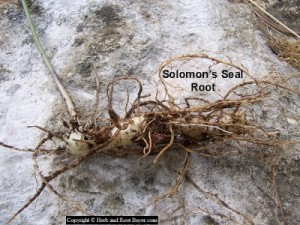 Click Image for larger size.
The root will be long, thick and yellowish in color and should be dug in the autumn. Only take mature plants and roots, leaving a plentiful supply to reseed the area for future harvest.
After harvest the root needs to be dried. Remove all foreign matter (rocks, weeds and other roots) and spread in a thin layer immediately. If the root is very thick, it may need to be cut to aid in the drying process. When possible dry indoors in a well ventilated barn loft or attic to protect from the elements. If natural heat is not available you may need to add heat and a fan for continuous airflow. The key to drying any root, herb or bark is an even combination of heat and airflow. Never dry in an oven or microwave.
The Solomon's seal root will be completely dry (largest stem will snap not bend) in 3-7 days depending on the drying conditions. Once it is dried place the roots carefully into a cardboard box or paper bag for storage in a dry area until you are ready to sell or use. Never store Solomon's seal in plastic or it will mold.
Cultivation/Planting: Solomon's seal prefers sandy, loamy, clay soils that are well drained and in full or semi-shade. If not hindered by other roots, it will spread rapidly and multiply. Propagation Seeds: Seeds should be sown in fall as they are gathered. Germination is very slow and may not produce for several years. Make sure the soil is well broken up and some fertilizer may aid in the growing process. You may also use a cold frame, prick when ready for transplant to a container and then plant in the summer after frost is no longer a problem.
Division: May divide the roots in the fall or early spring. Larger divisions can be planted out direct into their permanent positions.